Precor EFX-546i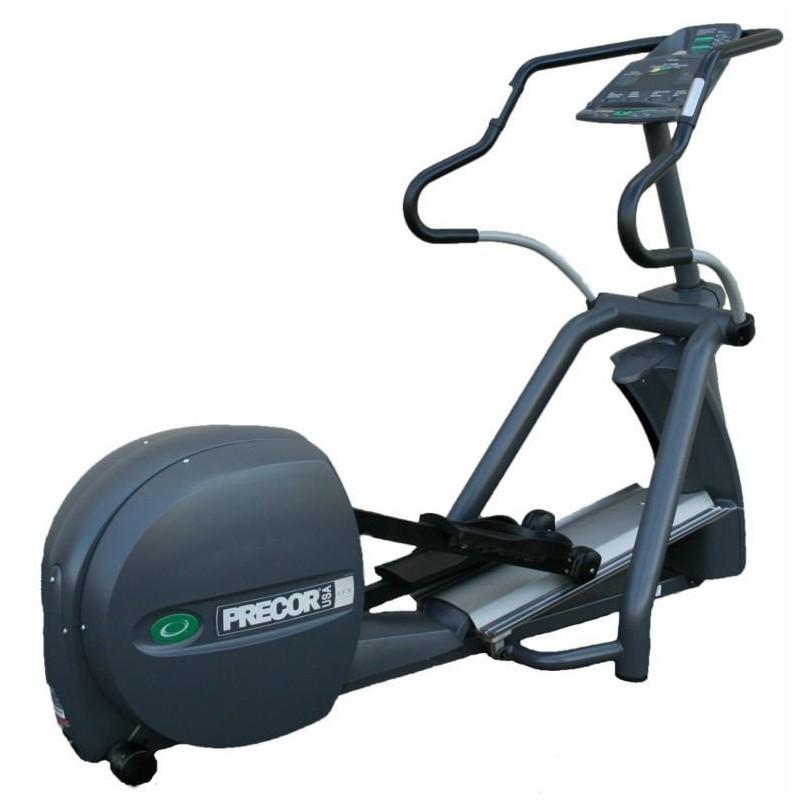 With a smooth, fluid motion that mirrors the movement of the body, the Precor EFX546i elliptical fitness crosstrainer provides an outstanding workout experience with a natural, elliptical movement. Designed for ease-of-use with intuitive displays that help you get on and get going, the 546i features an adjustable CrossRamp that allows you to change incline and target specific muscle groups.
Features
CrossRamp technology: You can select a ramp angle between 15 and 40 degrees throughout the workout to isolate and cross train quadriceps, glutes, hamstrings, and calves. Stride lengths vary along the incline from 21.2 to 24.7 inches for a smooth, comfortable workout.
Superior workout for glutes and quads: Working out on an EFX yields significantly more glute and quad activity than using a stairclimber, cycle, or treadmill.
Direct access to 10 programs: Six buttons are the gateway to 10 preset programs, including one fitness test. You can select or change to a new program at any time during their workout.
Tap Control: Large buttons provide satisfying tactile response and audible click. Beginners and experts alike easily get on and go with this intuitive control. You know the machine has received input, even when using headphones for entertainment.
Durable 6-phase generator system: no contacting parts to reduce friction and wear provides 20 levels to tailor workouts with consistent resistance. The 20 resistance levels range from 18 watts (level 1 at 20 SPM) to 720 watts (level 20 at 100 SPM).
Bio-feedback center with SmartRate: provides dedicated feedback on heart rate and calories. SmartRate shows your heart rate in relation to the target zone for weight loss and cardio training.
Accessory holders: for water bottle, portable music, reading material and more
Two-step powder-coating process applies rust-resistant undercoat and cosmetic topcoat to steel frame
QuickStart lets you begin workout with the push of a single button
Enjoy integrated entertainment: An optional Cardio Theater personal viewing screen can be integrated into the console, providing you with entertainment options while keeping you moving in the correct biomechanic position.
Specifications:
Power: Self
Programs: 3 cross training; 1 fitness test; 2 gluteals; 1 heart rate, 1 interval, 1 manual, 1 weight loss
Stride length: 21.2 inches at 13 degrees to 24.7 inches at 40 degrees
CrossRamp: 13 to 40 degrees (adjustable)
Resistance levels: 1 to 20
Maximum pause time: 30 seconds
Maximum workout time: 240 minutes
Height of foot at maximum incline: 21.5 inches
Height of pedal at lowest position (step up): 8 inches
Maximum user weight: 350 pounds
Dimensions: 80 x 32 x 68 inches (L x W x H)
Weight: 318 pounds
$2499
In Stock – Call or Visit Us
603-641-6800