Precor EFX-546HR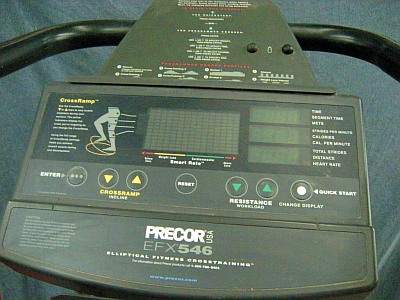 The cordless Precor EFX546 HR Elliptical, the World's most sought after exercise machine. You too can now afford this premium commercial grade, health club machine for your own home which features a no-impact, forward or reverse elliptical stride that lets you adjust ramp and resistance for cross training benefits. The Precor EFX546 Elliptical allows you to stride smoothly while holding the handrails or moving your arms in natural sync, with or without hand weights. The exclusive, electronically adjustable Cross Ramp lets you change the slope of the stride with the touch of a key to vary muscle emphasis.
Precor 546 Features:
CROSSRAMP TECHNOLOGY: With 20 different settings (from 10-40 ), it's easy for users to easily target different muscle groups with the quick tap of a key.
20 RESISTANCE SETTINGS: They make it easy for users to tailor the intensity of their workout; the advanced eddy current brake design ensures consistent resistance calibration between levels.
Smart Rate: is a color indicator which shows when the user�s heart rate is above, below, or within the user�s ideal weight loss or cardiovascular training zones. To activate the Smart Rate, the Precor heart rate chest strap must be used (installation of heart rate option kit required).
CSAFE COMPATIBLE: Allows for easy connection to industry technologies.
LOW MAINTENANCE: Thanks to a highly efficient drive system and quality components that ensure long life and durability.
EIGHT PRE-PROGRAMMED COURSES: Each makes full use of the unique CrossRamp technology to yield maximum benefits. Courses include: manual, crosstraining 1, crosstraining 2, crosstraining 3, gluteal 1, gluteal 2, interval and weight loss interval.
STRONG FRAME: It offers exceptional stability during vigorous exercise and allows freedom of movement for users of all sizes.
Precor 546 Specifications:
Dimensions: L: 78″ W: 30″ H: 61.5″
Weight: 220lbs
Heart Rate: Contact / Telemetry
Power Options: 110 Volt / 220 Volt / Self Powered
Crossramp: 13 – 40 degrees (adjustable)
Stride Length: 18″
$1999
In Stock – Call or Visit Us
603-641-6800