Precor EFX-546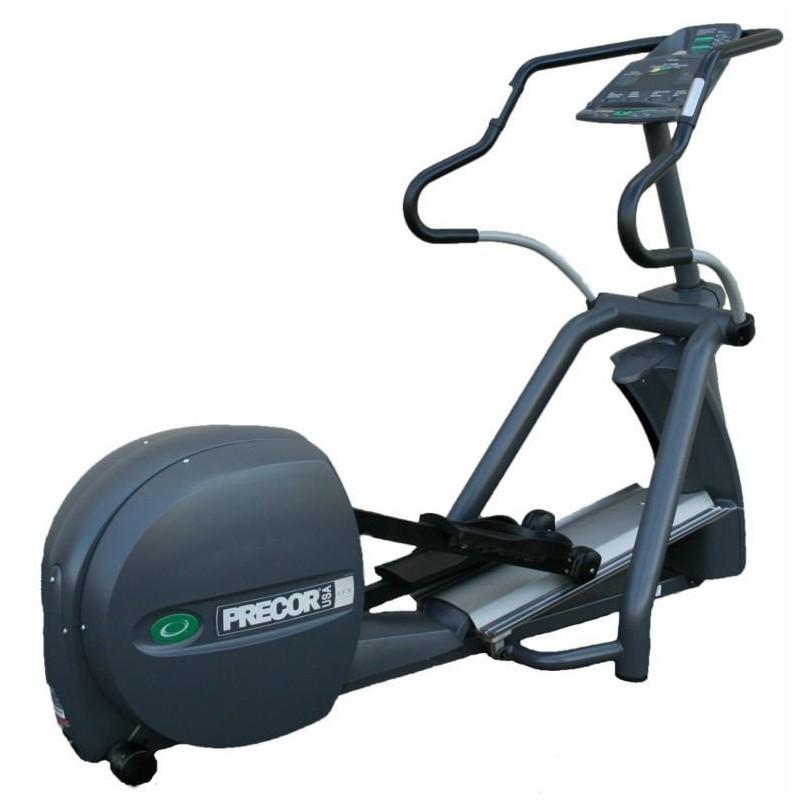 The reconditioned commercial grade, health club Precor EFX546 elliptical features a no-impact, forward or reverse elliptical stride that lets you adjust ramp and resistance for cross training benefits. The Precor EFX546 allows you to stride smoothly while holding the handrails or moving your arms in natural sync, with or without hand weights. The electronically adjustable Cross Ramp lets you change the slope of the stride with the touch of a key to vary muscle emphasis.
Designed for heavy commercial use, the Precor EFX546 Elliptical features sturdy construction, eight programs, and 20 resistance levels. It's designed to take up minimal floor space while providing exceptional stability-even during vigorous workouts. Easy to move, it fits through most standard doorways.
You are looking at an excellent example of a Remanufactured Precor EFX 546 Elliptical Version 1 Crosstrainer. Working out on an elliptical can burn as many calories as working out on a treadmill. Yet unlike treadmills, ellipticals are non-impact machines, making them perfect for anyone who has knee problems or is concerned about osteoarthritis. They also offer more variety than treadmills, allowing you to go forward and backward, as well as adjust stride length to target different muscle groups.
Features
Commercial-grade elliptical exercise machine for the home
Stride smoothly while holding the handrails or moving your arms in natural sync
8 exercise programs, and 20 resistance levels
Electronically controlled crossramp (10 to 40 degrees)
80 x 30-inch footprint; 400 pound maximum user weight
Specifications
Condition: Remanufactured
Resistance: 20 Levels
Power Options: 110 Volt / 220Volts
Programs: 8 Pre-programmed Courses
CrossRamp 13 – 40 degrees (adjustable)
Stride Length 18 in
Frame Powder-coated steel
Dimensions: 80 x 30 x 62 inches (LxWxH)
Weight: 230 pounds
Maximum user weight: 400 pounds
About Elliptical Trainers:
Elliptical trainers represent the next wave of advancement in low-impact cardiovascular exercise machines and continue to grow in popularity. By simulating motions experienced through walking, stepping, cycling, and skiing, elliptical machines allow for a smooth and fluid motion while building strength in the arms and legs. Similar to the exercise position for treadmills, elliptical trainers are used by standing in an upright position while holding the handrails of the machine. With elliptical trainers, however, your feet remain in the foot pedals throughout the exercise regimen and circulate in a smooth and seamless motion, resulting in little to no impact on the knees, back, and hips.
Elliptical trainers are compatible for all ages and fitness levels and allow you to select the difficulty level through the incline and intensity settings. Additionally, elliptical trainers allow you to determine the complexity of your workout based on your needs, all while listening to music, watching television, or reading a magazine while exercising in the comfort and safety of your own home.
Although different types of elliptical trainers offer an assortment of features, many of them include an array of challenging programs, forward and reverse directional movement, EKG grip pulse handles, a lightweight portable design with easy fold-up capability, and a monitor displaying calories burned, distance, speed, time, and heart rate. Other types of exercise machines, namely treadmills and bikes, offer excellent cardiovascular exercise and muscular training for the legs in a forward-motion exercise. Elliptical trainers take this to the next level by offering an upper and lower body workout with dual motion, challenging and diverse programs, and a low-impact exercise machine that won't strain sensitive joints.
$1399.00
In Stock – Call or Visit Us
603-641-6800